You all have an opinion about operation Market Garden, but chances are you don't have all the facts. "A Bridge Too Far" is just a Hollywood view of Market Garden, not particularly accurate or complete. My two books are very much up-to-date and based on verifiable primary sources.
Signed hardcopies of "Lost At Nijmegen" and "Little Sense Of Urgency" can be ordered via email. (An e-mail is also the way to book a bespoke battlefield tour.) On Amazon you can buy the "Lost At Nijmegen" Kindle version.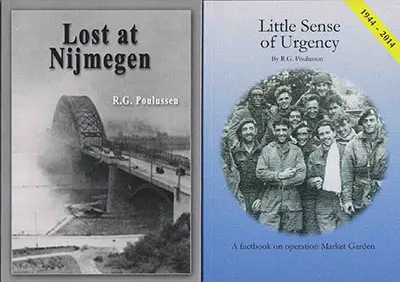 Review
"Poulussen's work identifies a number of causes why Market Garden failed that do not marry with the Beevor/Hastings/ABTF school of pop historiography."
Bibliography
Instead repeating what has been written in so many Market Garden books after WW2, I decided to focus on primary sources, investigate and use footnotes.