Signed hardcopies of "Lost At Nijmegen" and "Little Sense Of Urgency" can be ordered via email. (An e-mail is also the way to book a bespoke battlefield tour.) On Amazon you can buy the "Lost At Nijmegen" Kindle version.
"Poulussen's work identifies a number of causes why Market Garden failed that do not marry with the Beevor/Hastings/ABTF school of pop historiography."
I wanted an answer to what exactly happened in Nijmegen during operation Market Garden. Not a lot had been written about it. I discovered unknown material and found out that there had been been no offensive action planned to capture the Nijmegen Waal Bridge, before the jump of American 82 Airborne Division. They did advance towards the bridge at some point late in the evening, but then the element of surprise, so important for lightly armed paratroops, was lost.
When on 19 September British 30 Corps arrived in Nijmegen, on time, the Waal Bridge there was still not captured. Only two days later 30 Corps could advance in force across the Nijmegen Waal Bridge. But, it was too late. At that time, John Frost and his men at the Arnhem Rhine Bridge had already surrendered.
My findings are described in detail in "Lost At Nijmegen (2011)".
Was fun to write, and I decided to write another book. Knowing that was no comprehensive Market Garden book covering the actions of all participating battalions, army and airborne. Mainly based on primary sources. It took me three years. "Little Sense Of Urgency (2014)".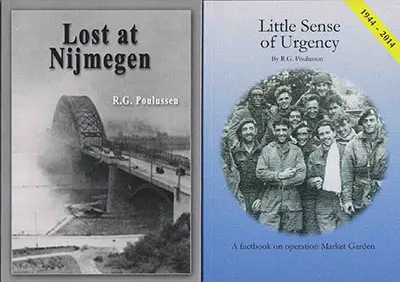 Instead repeating what has been written in so many Market Garden books after WW2, I decided to focus on primary sources, investigate and use footnotes.